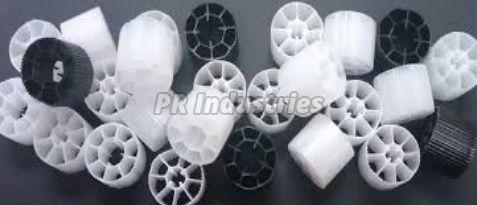 MBBR is its abbreviated form and its full form is Moving Bed Biofilm Reactor. It is a very highly functional biological treatment process that combines the traditional mobilized sludge process and biofilm media. This is a technology that is commonly used in sewage treatment plants.
The MBBR Media provides superior quality and low-cost and maintenance solutions to secondary wastewater treatment plants. And if you can choose the right media then you can effectively manage your cost.
What Is The Purpose Of MBBR Media :-
In this type of treatment of wastewater, there are thousands of small pieces strewn about in the wastewater treatment tank and it occupies about 50-70% of the space available. These floating pieces contain activated bacteria. These microorganisms consume all the organic material that is present in the tank.
The design of the MBBR Media is such that it can host only good bacteria. They are ideal in the usage of aeration tanks. They move throughout the entire space of the tank and decompose the solid matter.
The MBBR media is very effective because its design promotes a lot of surface area that allows the beneficial bacteria to digest the solid waste.
The Different Types Of MBBR Media :-
There are many types of MBBR Media. They are as follows:
• Sponge-type carriers – they are carriers with extremely high mechanical strength, a very high and specific surface area, a rough surface texture that allows the waste to cling onto it, and are highly flexible in nature.
• Chip-type carriers – are very thin and possess highly concentrated fine pores, which are flexible and have a high resistance to wear and tear.
• Coin-shaped carriers – they are thin and coin-shaped and have the advantage of water seeping in from both sides.
• Tube-shaped carriers – long, narrow and tube-like, can offer a stretched surface area for the growth of the microorganisms. They have the ability to spread out evenly on the water because of their shape.
Advantages Of MBBR Media :-
The MBBR Media have certain advantages that have helped in their increased usage in tanks everywhere nowadays. These advantages are listed below as:
• Compact and small in size
• Treatment capacity increases
• Removes solids completely
• Settling characteristics are highly improved
• High concentration power
• Can operate at higher suspended biomass level
• Stability is high
• No filter channeling required
• No need for backwashing
• Produces reduced sludge and no sludge bulking
How To Select The Right MBBR Media :-
There are certain points that must be borne in mind while considering MBBR Media:
• The surface area of the media
• Performance and required biodegradation rate
• Design and shape
• Resistance to wear
• Maintenance cost
The Industries That Benefit From The Media :-
Certain industries can get the immense benefit of the media. Let us where they are in usage:
• Dairy processing for milk, cheese, and yoghurt
• Beverage factories like breweries, juice, and soda
• Automotive industry
• Metal plating and finishing
• Municipal sewage treatment plants
• Chemical industries
• Paper and pulp
• Coke and steel plants
• Aquaculture and koi ponds
• Container units
Conclusion
In this competitive industry, it is only wise to make the right selection so as to save on costs and make more profits. This can only be done by choosing the right MBBR Media Supplier in India. They should be able to supply you with the best at most effective calculated costs.