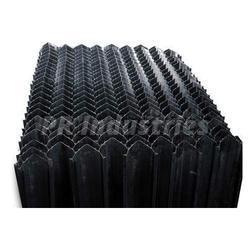 The provision of safe and clean drinking water is essential for a healthy and sustainable life. However, with growing population, increasing industrialization, and environmental degradation, the availability of clean water is becoming scarce. To counter this issue, innovative techniques and solutions for water treatment are the need of the hour. Among the various water treatment solutions, PVC tube settler media is a revolutionary technology that has gained widespread acceptance in the industry.
PVC tube settler media is a highly efficient and cost-effective solution for water clarification and sedimentation. Tube settlers incorporate a series of closely spaced inclined plates or tubes, which increase the settling area to facilitate the separation of solids from liquid. It works on the principle of laminar flow, which creates a quiescent environment to allow particles to settle down. The large surface area also enhances the contact time between the suspended particles and the settling zone, leading to improved settling efficiency. The tube settler media has become popular in the treatment of both surface and wastewater and has applications in municipal and industrial water treatment plants.
The Advantages of PVC Tube Settler Media
1) High efficiency:
The use of PVC tube settler media enhances the efficiency of the settling process. With a larger surface area, the settling time is reduced, and the volume of settling tanks can be reduced. This means faster and more efficient treatment, reduced retention time, and increased plant capacity.
2) Cost-effective:
The tube settler media is an affordable solution that significantly reduces operational costs. With the reduction in retention time and the increase in plant capacity, the amount of energy used for pumping, mixing, and aeration is reduced. This leads to lower operating costs and a smaller carbon footprint.
3) Easy to Install:
The design of the tube settler system makes it easy to install and retrofit into existing water treatment plants. It can be added to an existing clarifier or sedimentation tank to increase the settling capacity without significant modifications.
4) Low Maintenance:
PVC tube settlers require minimal maintenance and do not require cleaning or washing. Since the surface is made of PVC material, it is resistant to corrosion and fouling and can last for many years.
5) Environmentally friendly:
PVC tube settler media is an environmentally friendly solution that contributes to the reduction of wastewater and associated environmental pollutants. It reduces the amount of sludge produced, minimizes the use of chemicals, and reduces energy consumption. Moreover, PVC is a sustainable and recyclable material, making it a green solution for water treatment.
Applications of PVC Tube Settler Media
PVC tube settler media has a wide range of applications in water treatment plants. Some of the common applications include:
1) Clarification of surface water.
2) Treatment of wastewater.
3) Removal of heavy metals and other contaminants.
4) Pre-treatment in reverse osmosis and nanofiltration systems.
5) Sedimentation in industrial wastewater treatment plants.
Conclusion
PVC tube settler media is a versatile and cost-effective solution for water treatment. Its use offers many advantages, including high settling efficiency, reduced costs, easy installation, low maintenance, and eco-friendliness. It has applications in various sectors of water treatment, including municipal and industrial water treatment plants. The use of tube settlers has revolutionized the water treatment industry and has become a popular choice for plant operators worldwide. With the growing demand for safe and clean water, PVC tube settler media is set to play an essential role in the years to come.