PVC Tube Settler Media – The Better Water Treatment Option
Posted by Admin on November, 29, 2019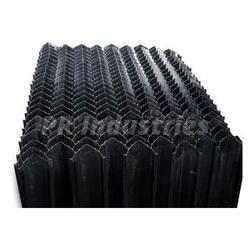 PVC tube settler media is for solid-liquid separation in water and wastewater treatment plants: It is a very high-efficiency solid-liquid separator. This is because its shape is the hexagonal-chevron type that has got the utmost efficiency of separation between all other shapes available i.e. square, rectangular or hexagonal. Its range of applications contains primary and secondary settling in water as well as wastewater treatment plants with any type of secondary treatment. It is also being very successfully used along with anaerobic digesters, to control the outflow of sludge and enhance gas production.

Features of a good quality PVC tube settler media

Cost-effective
To significantly progress the capacity and performance of your facility, utilizing tube settler media will mean evading the expense of adding new basins, etc.

Ultimate clarifier function
The inclination at 60-degree angles allows for efficient isolation of suspended solids. The particles remain in this calm environment for a length of time due to the length of the tubes, which increases the clarifier settling (surface) area.

Versatile & fast installation
The tube settler media system can adjust to virtually any setting with a quick-and-easy installation procedure designed for many clarifier shapes.

Enhanced solids removal
The tube settler media manufacturer's design guarantees upper flow rate and effective solids removal while using up minimal space in the sedimentation basin.

Seamless strength
The tube settler media design and resources used run long-lasting strength and efficient performance for your facility.

Immense durability
It attests to the long-life of our tube settler media products.

Non-corrosive tubes
The PVC utilized for the tube settler media provide assurances a rust-proof / corrosion-free solution, for better longevity.

Applications of the PVC tube settler media

• Wastewater treatment:
Whether for residential or industrial wastewater solutions, the tube settler media we offer is an economical and efficient choice. Water parameters can be reduced to required criteria with no further requirement for the use of chemicals, in fast or slow mixing.

• Biological floc separation:
Tube settler media captures the biological floc that escapes the zone where clarification is done (just beneath the tubes). This allows the larger floc to travel to the bottom of the tank, in a form that can settle adequately.

• Wash water re-circulation:
Wash water facilities prepared with tube settler media can work at two to four times the normal rate for facilities without the tube settler media system.

• Drinking water treatment:
The same principles and mechanisms hold (as mentioned above) for optimal water clarification.

Qualities of good tube settler media supplier
• Tube settler media supplier provides a large settling surface, allowing high flow-rates.
• It processes we use are unique, giving the highest surface area.
• Good tube settler media manufacturer has perfected the inherent shapes of our tube settler media for the efficient downward flow of sludge.


How to choose the best tube settler media

If you're looking for a reliable solution that integrates strength, efficiency, and versatility or simply want a quick and effective way to maximize solids removal for your facility, choose the cost-effective solutions engineered for superior performance. Pick tube settler media from a dependable prime provider in the market.
This entry was posted on November, 29, 2019 at 12 : 11 pm and is filed under PVC Tube Settler. You can follow any responses to this entry through the RSS 2.0 feed. You can leave a response from your own site.