Tube Settlers- The Better Water Treatment Options
Posted by Admin on August, 07, 2021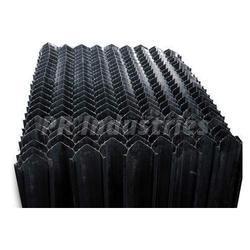 A Tube settler media is a water treatment device. It is constructed of lightweight PVC tubes that are stacked adjacently and connected at a 60-degree angle to enhance the settling area. Although a tube settler and a plate settler perform the same function they are different.
The manufacturer of tube settler media designs the settling area of the particles in such a way that it is shallower than that of a typical clarifier. This makes it much easier for the floc to settle. The fine floc that makes it through the clarifying zone must be used by the tube settler to stop the fine particles. By this procedure, the tube settler creates bigger particles that reach the tank's bottom easily.

Working of the Tube Settlers
The tube settlers primarily function in two ways. Firstly, they provide a wide surface area for particle settling. This is due to the angle at which they are connected. Second, they are used to collect smaller particles until they create bigger particles that can flow uniformly down the pathway. In this way, they act as a better means of water treatment options.

Specifications of Tube Settlers
The tube settler manufacturers in Delhi provide these settlers at an affordable rating of Rs 6,000 per cubic meter. They are made up of PVC material with an approximate thickness of 1.0 mm. These settler media have longer durability with proper finishing. The cross-sectional area of the tube settler is around 44mm x 120mm. These products can work continuously at 55 degrees of maximum temperature.
The manufacturer of tube settler provides it in a range of heights such as 750 mm, 1000 mm, or as desired by the client. The number of pieces available per cubic meter is around 200 pieces in 750 mm. The minimum order quantity for the tube settler media has been set to 50 cubic meters.

Why choose Tube Settlers?
Tube settlers are a low-cost way to increase the performance of existing water treatment plant clarifiers and sedimentation basins. They can also minimize the footprint required in new installations, as well as enhance the efficiency of existing settling basins by lowering the sediment loading on downstream filters. Tube settlers are made of lightweight PVC that may be supported with minimal structures, which usually include the effluent trough supports.

Benefits of using Tube Settlers
The tube settler media have number of advantages that make them more likely to use. Because of their lightweight and portability, they are easier to install in different sizes and shapes of tanks. When it comes to water treatment, tube settlers are quite successful. They have stood the test of time and continue to provide excellent service to the clients.
Tube settlers save money that would otherwise be spent on heating water and condensing the vapor to produce clean water. Tube settlers can also be employed in the treatment of sewage. The installation of tube settlers can help improve the flow of existing water treatment facilities. Tube settlers boost allowed flow capacity by enhancing settling capacity and the rate at which sediments are removed in settling tanks.

The tube settler manufacturer in Delhi provides the customers with the best range of products with high tensile strength and a longer lifespan.
This entry was posted on August, 07, 2021 at 16 : 22 pm and is filed under Tube Settlers. You can follow any responses to this entry through the RSS 2.0 feed. You can leave a response from your own site.