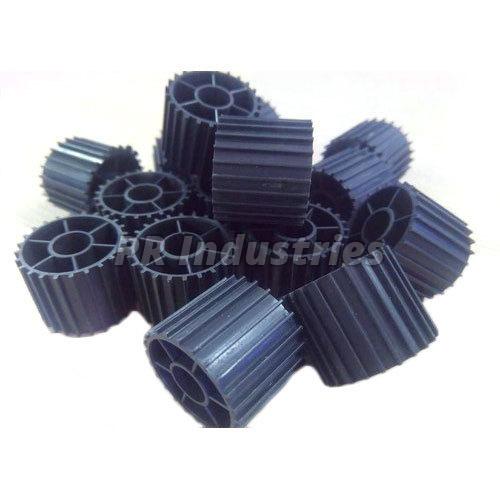 The MBBR is considered an amazing and highly effective and efficient biological process of treatment. It process is directly based on the idea of combining the 'conventional activated sludge process and the biofilm media. The process of MBBR makes complete utilization of the characteristic of the floating microorganism biochips in the aeration and the anoxic tanks.
The microorganisms which are let into the tanks consume the organic material present in it. The presence of the media in the process helps in providing an increased space and surface area where the microorganisms can freely thrive, attach and attain growth. Once the surface area of these tanks gets increased, the footprint which is required for treating the wastewater gets reduced drastically.
This actually helps makes the process of treatment of water easier and less complicated. You can either introduce aerobic or anaerobic processes for treating and operating the hinges volume of water. The MBBR Media Supplier in India ensures to manufacture and sell the best quality media chips which help initiate and undertake a safe and easy way to deal with the treatment of wastewater.
Advantages served by the MBBR process:-
Diving into the field of advantages which are served when you make use of the MBBR can be described as:
• It is a compact and multifunctional unit of a comparatively smaller and handy size.
• It increases the capacity of wastewater which can be treated.
• Using MBBR helps in removing all sorts of solid waste and other particulate matter.
• It makes provision so that waste can get easily settled.
• It increases the capacity of operating a higher amount of biomass.
• The concentration of the unit results in an increased time period of retaining the sludge without any side effects.
• It makes the process of treating the water more stable and enhanced.
• Requires no separate filtering.
• Requires no headache regarding backwashing on a regular basis.
• It has the capacity of reducing the amount of sludge produced.
Why MBBR?
The process of using MBBR utilizes the media present in the tank. As per the MBBR Media Supplier in India, the presence of plastic carriers helps in increasing the number of micro-organisms present in the aeration tank that treat the water. The MBBR media has a special feature that gets easily agitated by the aeration system present in the tank. This helps in adding up oxygen at every compartment of the tank, especially the bottom one. This helps in the detailed and effective cleaning of wastewater with the help of aerobic processes.
In comparison to the conventional and traditional secondary treatment waster plants, using MBBR media chips is considered more effective and efficient in terms of the result as well as the value.